[This story was written by Jonathan Harley, Head of News and Media Strategy at Canva. Canva is providing support to ONA20 Everywhere.]
Whether you're major digital publisher news.com.au covering the fast-moving Trump COVID hospitalisation or the plucky news start-up thedailyaus.com.au making sense of Australia's national budget, you need great-looking graphics produced with speed and consistency. Enter Canva for Newsrooms: the storytelling tool for news teams of every shape, size and structure.
At Canva, we want to help journalists and newsrooms tell their best stories with the greatest impact. We've just launched a range of social-post templates specifically for newsrooms, with more than 40 designs for Instagram Posts and Stories, Twitter and Facebook. From breaking news to video, we've got you covered. Check them out here or simply type "newsrooms" into your Canva search bar.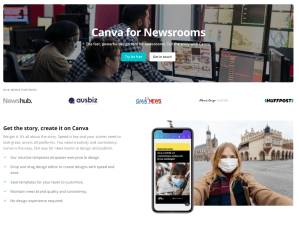 Design on the go
Journalists and newsrooms from Phoenix to Sydney to Mumbai are now using Canva to meet their design and publishing needs. With Canva's drag and drop editor, you can design anything and publish anywhere — whether you're managing a breaking story at your desk or covering it out on the road on your phone. In the Philippines, GMA News and Public Affairs has been designing with Canva for over a year. GMA News Social Media Manager Justin Joyas said:
"Speed is important for us especially when there are breaking news events. The ease of doing design on Canva has allowed us to create and publish engaging infographics when we need it."
The pressures on newsrooms have never been greater. So we've built tools that help everyone on your team create and manage your designs. News teams get the controls that keep everything in the right place and looking as they should. Font controls? Sorted. Color controls? Done. Template controls? Of course.
Having worked as a broadcast journalist for more than 20 years, I've always loved the creative challenge of telling stories in new and engaging ways. As Mark Thompson, former CEO of the New York Times, told me earlier this year, "Like every other form of creativity, journalism is about discovery and being open to something new and fresh." I'm passionate about working with journalists and newsrooms to give them the tools and support they need as we shape the future journalism.
A special offer
While you can do a lot on Canva for free, we want everyone at ONA20 to experience the full set of tools at their disposal. We have a special offer for all ONA participants: a free 3-month trial of Canva Pro. Go to canva.com/gift and use the code ONA20 to sign up.
Get in touch
Let's talk about how Canva can help meet your challenges and realize your ideas. Reach out on the Midway during ONA20, email me jonathan.h@canva.com or ask me questions during our session How Canva is Transforming Design for Journalists and Newsrooms on Oct. 13. We will share use-cases, best practices and a detailed demonstration of Canva's newsroom tools.