With ONA20 Everywhere just around the corner, we'd love to help our attendees learn how to get the most out of this 100% digital event. Here's a checklist of all the steps we recommend taking as you prepare.
Check out the educational offerings
We have lots of inspirational and educational sessions planned on a wide range of topics over two weeks, Oct. 1-16. We're gathering Tuesdays-Fridays with half-days of programming, to help you balance attending with your workload and responsibilities.
With your ONA20 Everywhere registration, you'll have access to all of the learning sessions that interest you, plus recordings of any sessions you can't attend in real time, available as soon as sessions conclude. We'll post any resources the speakers give us permission to share underneath the session once we have them.
The only thing you'll have to do to access a session is to log on to this same website you're on right now: ona20.home.ona. Click the Login button at the top of the page, and once you're signed in or registered, find the session or event you are looking for on the schedule.
When you log in and view a session, you should see something like this: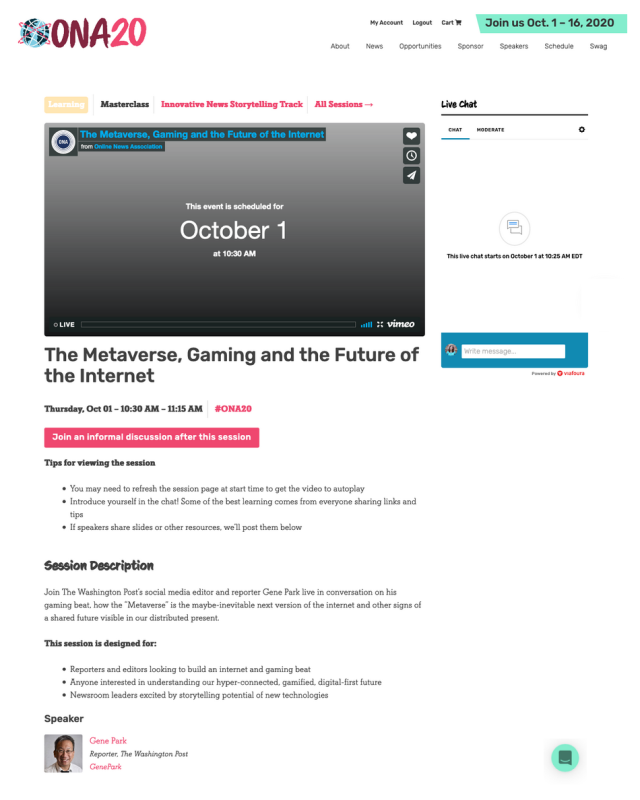 The speakers' talk will stream via video directly on the session page. You'll have the opportunity to participate in a live text chat with other attendees and ask questions while the session is streaming. Chats will open about five minutes before the session begins and close 15 minutes after it ends.
Each session will have a separate video chat that is optional for you to use after the session ends. These video chats are meant to provide an informal forum for people who want to digest the talk, and will not necessarily include the speakers themselves (although in some cases, they may participate!)
Think of it like this: What would happen if you stayed after the end of a session at an in-person conference and chatted with people seated nearby? You know you're interested in the same topic, because you all attended the session, and you might learn something new from what someone else took away. Just click the pink "Join an informal discussion after this session" button to participate.
Take a break
Just like it sounds, ONA20 Everywhere is, well, everywhere — even in outer space! So we've set up some amazing, fun and inspiring virtual tours for attendees to enjoy during the conference, taking you from Chicago's Field Museum all the way into outer space with NASA. This is a chance to decompress between sessions and have some more informal social time with other attendees.
We'll employ a variety of platforms like Zoom or other tools for these, depending on the experience. Every session page will describe exactly what to expect, with links and directions to participate.
Meet your peers (from a physical distance)
One of the best parts of an ONA event is the opportunity to meet inspiring leaders in journalism, catch up with friends from different parts of the world and meet others who are interested in the same topics as you are. Rest assured, there will be plenty of opportunity to do this at ONA20 Everywhere. In fact, we hope the virtual environment makes it easier for people to attend who haven't yet, helping you expand your journalism squad even more.
In addition to connecting with attendees through text chats and post-session video discussions, you can also book one-on-one meetings using our virtual networking platform, Grip—which is a little like a dating app for professional networking. You'll be able to see who else is attending ONA20 by browsing, or searching by title or interest area, and Grip's AI will also recommend other attendees with shared interests. More on how to use Grip to network during ONA20 Everywhere.
This is also where we'll host the ONA20 Midway space, where you can try out the latest tech, talk to recruiters and learn about tools that can help you level-up your work. You can explore exhibitor pages and book one-on-one meetings with them.
For receptions and other types of meetups, we'll use a Grip feature called Waves. In a Wave, you'll be paired with other attendees for chats or video calls over a series of five-minute, one-on-one meetings based on shared preferences. This is a good way to meet other attendees who have a common interest or similar role.
Take advantage of career opportunities
Organizations from all over the digital news industry will be at ONA20 Everywhere—which makes it the perfect place to find a new job, learn about a fellowship, consider graduate school or get career advice. There are two things registered attendees can do to find opportunities:
Upload your resume. We'll share it with recruiters and they'll reach out through Grip to schedule meetings throughout the conference.
Attend the Career Fair on Oct. 14 in the Midway (also on Grip). You'll be able to chat with recruiters, as well as reps from journalism schools. Check our sponsor list and see who'll be there.
Join us in video chats
We've all grown to know and love the Zoom uniform, so it makes sense to wonder: What's the dress code for ONA20 Everywhere? The first thing to note is that during most educational sessions and some networking events, you won't be required to be on camera. By all means, attend those in your sweats or your power suit, whatever makes you feel great.
Many of the networking opportunities, however, will work best with you on camera. For example, when you set up a meeting with someone who has a common interest through Grip, you'll both be asked to enable your cameras.
Most attendees for ONA's in-person events dress business casual, including jeans in many cases, and that advice goes for the virtual realm too. But use your best judgement: if you're talking to someone you want to hire you, for example, you might consider looking a bit more professional. And keep in mind that all of the typical advice for videoconferencing applies: Place lighting in front of your face and try not to sit with your back to a window, which will make it harder to see you. Make sure anything the camera can see behind you is safe for work and reflects on you in a way that would make you proud (be forewarned, there aren't virtual backgrounds in Grip to hide a mess!)